Grubnux
Biographical information
Homeworld

Unknown

Died
Physical description
Species
Gender
Height

1.83 meters

Hair color

none

Eye color

Black

Chronological and political information
Era(s)
Affiliation
Known apprentices
Grubnux was a purple Whazit who was the best guard the Bozekanian crimelord Alokem could afford.
The Best of the Best
Edit
He was the guard who trained others. He had a close friendship with
Indibal
. One night, Grubnux was ordered to store some spices in the cellars. However the
Wookiee
Kollaca
and his friend
Jon Treola
stole the spices in front of him. Rumor has it that Grubnux killed Treola for he and Kollaca were most wanted by Alokem. However,
4-LOM
captured Kollaca, but was rescued by Grubnux's pupil
Roodala
. Roodala killed Alokem freeing the Wookiee. Grubnux was killed by the
Ithorian
Momaw Nadon
who shot him in the chest. Indibal tried to kill Nadon, Roodala, her father
Wuher
, and Kollaca but he was rescued by 4-LOM and Alokem's majordomo
Tigit
. The three guards escaped and the four traitors escaped.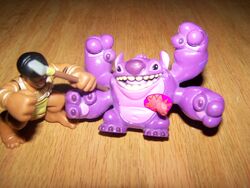 Appearances
Edit
Ad blocker interference detected!
Wikia is a free-to-use site that makes money from advertising. We have a modified experience for viewers using ad blockers

Wikia is not accessible if you've made further modifications. Remove the custom ad blocker rule(s) and the page will load as expected.