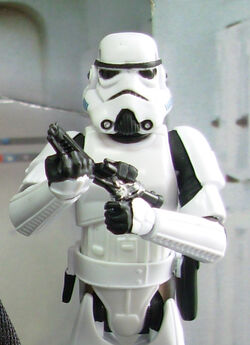 "The Empire has a legion of loyal soldiers that are in endless supply."
Stormtroopers were the elite shock troopers of the Galactic Empire. Like Imperial-class Star Destroyers and TIE Fighters, stormtroopers served as reminders of the Emperor's power, extensions of his will, and a method of keeping the Empire's thousands of star systems in line through fear.
Formed into the Stormtrooper Corps, stormtroopers operated alongside Army, Navy, and Starfighter Corps units independently, where some placed on Navy ships were given the name "marines."
Appearances
Edit
Ad blocker interference detected!
Wikia is a free-to-use site that makes money from advertising. We have a modified experience for viewers using ad blockers

Wikia is not accessible if you've made further modifications. Remove the custom ad blocker rule(s) and the page will load as expected.